Hi All,
Here's a picture from a wedding at the Bayer's Estate, now better known on Hawaii 5-0 as Steve McGarrett's House.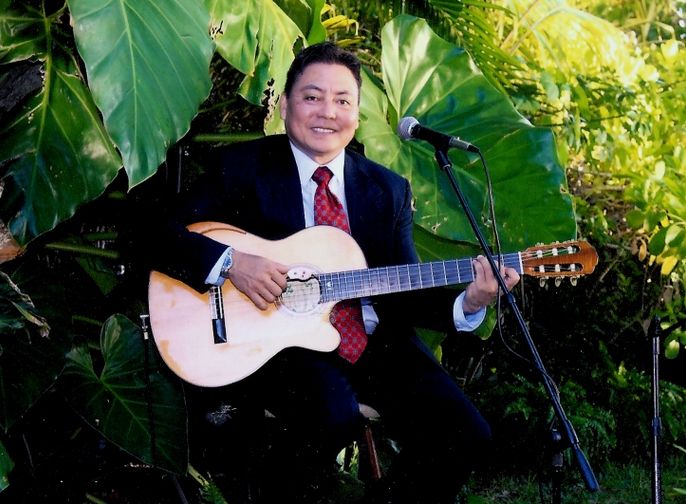 Hi All, 
I just sat in with a cool duo. Bruce Hamada and Jim Howard gig at "Fresh Café" and invited me to do a couple songs with them.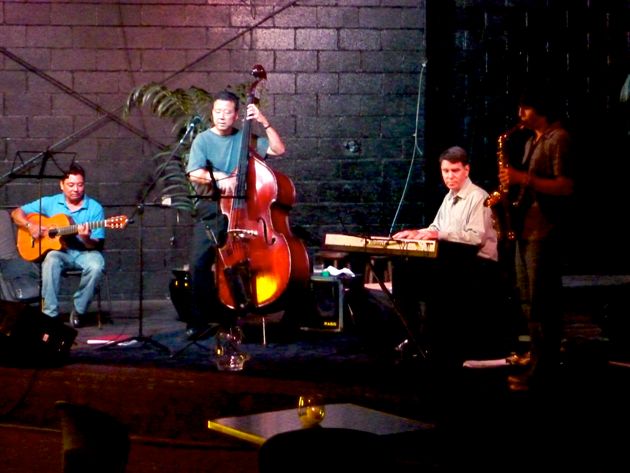 Check out the cool jazz of Bruce Hamada and Jim Howard 
 Tuesday Nights ~ 9:00 pm to 11:00 pm
May 24, 2010 
Hi All,
The 3rd Annual "Honolulu's Finest Gala Event" this past Friday, May 21st at the Waikiki Ballroom was a great success!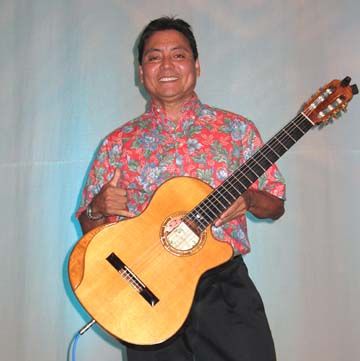 The event was a benefit for the Honolulu Police Community Foundation and honored John Henry Fenix and Jimmy Borges. The program included Emcees Carol Kai and Kimo Kahoano with Pule by Danny Kaeikini and Dinner Entertainment by Yours Truly! Important guests included Mayor Mufi Hanneman and City Managing Director Kurt Caldwell.   
Honoring Jimmy Borges with his humble stories of fame was none other than Jim Nabors! Honoring John Henry Felix with stories accomplishments and days past was Mr. Tom Moffat.
A tribute was given to the Police Hall of Fame Inductee, Detective Lucile M. Abreu for her tireless work for equal rights that forever changed the face of the Honolulu Police Department.
The evening concluded with a mini-concert by Hawaii's Own Amy Hanaialii and her band. 
Big Mahalo goes to Ron Taketa Co-Char, HPCF President Lee D. Donohue, Honolulu Police Department Chief Louis Kealoha and Dr. Edison Miyawaki. Great job!
 Aloha Wayne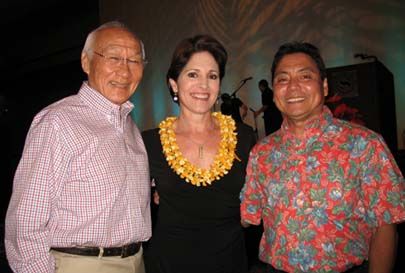 Dr. Edison Miyawaki, Lynne Waters and Me  
April 5, 2010
Thank you everyone for making Chantel Ikehara's benefit concert a huge success! The Yurimaru group did a fantastic job along with all the performers, supporters and ohana that donated their time and talents:  
Chantel and Ohana, Shinden Karate, Lee Tonouchi (Poetry), Shishi Mai, Hawaii Taiko Kai, Urizun Minyo Group, Tamagusuku Ryu Senjukai Hawaii, Hawaii Eisa Chimugukuru Daiko and also me and My dad!
 Chantel Ikehara ~ Performing at the "Yurimaru Live" benefit concert 
In October 2009, Chantel became the 29th annual KZOO Karaoke Festival grand champion.  At 15, she will be representing Hawaii in the finals held in Tokyo and compete with an international field of 160 finalists. The competition will be held during the last week of May 2010 and we are all confident that Chantel will be recognized as one of the top performers. After the competition, Chantel and her ohana will travel to Okinawa to meet and study with her sensei before returning to Hawaii.
 Chantel, Ganbatte! (go for it, we hope you win!)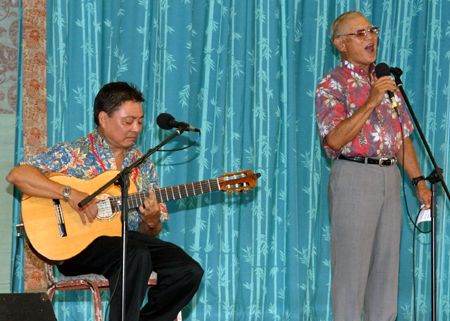 Wayne & Stan duet ~  Performing at the "Yurimaru Live" benefit concert for Chantel
Big mahalo to my dad for performing at Chantel's benefit concert! Stan recieved a big "Hana Hou" after singing a heartfelt version of "Bashofu" and followed up with the classic Koko Ni Sachi Ari (Here is Happiness).
 The Takamine family wishes Chantel and ohana all the best!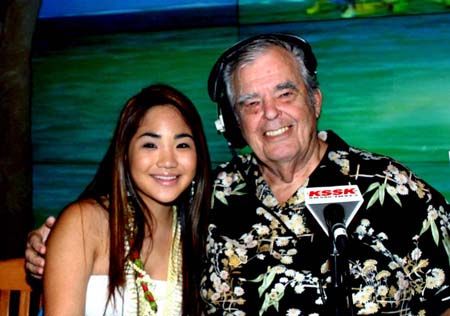 March 20, 2010 ~ KSSK Perry & Price Show with guest artist Chantel Ikehara 
Big aloha to my guitar student Chantel Ikehara for a great performance on the Perry and Price Show! Chantel sang "First Love" ~ the winning song that made her the 29th annual KZOO Karaoke Festival Grand Champion! Perry and Price were so impressed that they asked her to come back and for an encore performance. 
The  December 3, 2009
Mele Kalikmaka Everyone, Last night's performance at the Sheraton Waikiki to celebrate 100 years of UH Warrior Football was a huge success!
Congratulations to Dr. Edison Miyawaki, owner of the NFL's Cincinnati Bengals, and chairman of the Centennial Celebration Gala for 100 year UH Football! The fundraiser made $275,000 and was the largest one-time UH Athletic fundraiser in history!
Keynote speaker Dick Vermeil, who coached 2 Super Bowl teams, gave a very inspiring talk about football, his connection to Hawaii and coaches June Jones, Dick Tomey, Bob Wagner and coach Mac!
The honorable Governor Linda Linge and Mayor Mufi Hannemann also spoke of their continued support and appreciation for the Warrior Football program and UH athletics.
Robert Kekaula created a historic video journey through the 100 years of UH football with clips past coaches, star players including the big plays and kaatoosh hits! 
I talked to coach Mac and Vice Chancellor Virginia Hinshaw and they are hoping fans will come out to support the Warriors in this Saturday's showdown with Wisconsin!
Also a big aloha to friends from Hawaii National Bank Bryan Luke, Kathy Luke, Dennis and Jan Wong, nice to see you! 
Aloha, Wayne
November 30, 2009 
Mele Kalikmaka Everyone,
I'll be performing dinner music on December 2nd at the Sheraton Waikiki Ballroom for the Centennial Celebration for 100 years of University of Hawai`i Football!
I'll also be performing on Wednesday, December 9th at an "Evening At Waipio" Crafts Fair in the Okinawa Center. I'll be performing with Ms. Chantel Ikehara who has just won the overall 29th annual KZOO Karaoke Festival and will be competing in the finals in Tokyo this coming spring! FYI, Chantel also plays guitar!
Congratulations to Erinn & Davin on their upcoming wedding also in January. Thank you for inviting me to perform!
Of course still doing things at the "Little Oven" on King St. Call Joyce at 947 6836 for reservations!
Still getting gigs…somehow?

Mahalo, Wayne

October 1, 2008 Eh Komo Mai,
I've added some some guitar instrumentals demos to the "Music" page. To listen just click on the MP3 icon. Downloads are available at CdBaby or iTunes on the "Buy" page.
What Child is This "Greensleeves" ~ Christmas Song Jesu Meke Kanaka Waiwai ~ Hawaiian Song by John Almedia Minuet In G ~ J. S. Bach Without Words ~ Original Jazz by Wayne Takamine
Other instrumental selections in the "Music" page includes: Quiet Nights With You ~ Original Jazz by Wayne Takamine Classical Gas ~ Mason Williams Romanza ~ Classical Guitar Sunset Slack ~ Original Slack Key by Wayne Takamine Hawaiian Wedding Song ~ Hawaiian Killing Me Softly ~ Jazz Thanks for dropping by!
Wayne