Musical Journey CD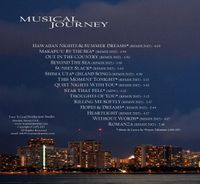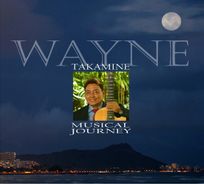 _
Touch CD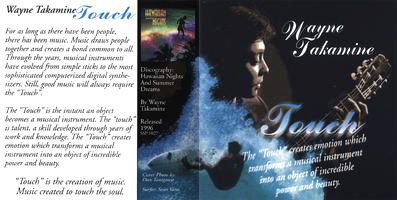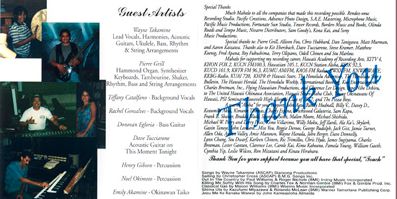 Contemporaray Hawaiian, Jazz and Classical

"Touch" by Wayne Takamine 1998 Hawaii Music Awards Winner! Best Island Artist
"Touch" is Wayne's second CD recording. It was recorded at Rendezvous Recording Studio and earned a 1998 Hawaii Music Award in the Island Music Category. Produced and arranged by Pierre Grill and Wayne Takamine, "Touch" features 5 original songs, 5 cover tunes and 6 bonus classical guitar instrumental selections that includes arrangements of "Jesu Meke Kanaka Wai Wai" and "Greensleeves"
It features Wayne on acoustic guitars, Lead Vocals, and Ukulele, Tiffany Catalflano background vocals, Pierre Grill on keyboards and rhythm arrangements, Noel Okimoto and Henry Gibson Latin Percussion and Bass by Donavan Egloria.
"Touch" has an "Island Theme." It features songs like "Sailing," Makapu'u By the Sea" and "Out In the Country," that reflects our Hawaiian style easy living. It also features 3 romantic ballads: "Hopes and Dreams," "This Moment Tonight" and "Thoughts of You." It also spotlights Wayne's ability to perform on acoustic guitar with "Classical Gas," and a jazz rendition of "Killing Me Softly With is Song."
AIRPLAY
"Touch" has received good airplay by different stations in Hawaii including: Hawaiian KINE 105.1, FM 100.3, KORL FM 99.5, KHPR, KPOA, KUAI, KWXX, KZOO and KBIG. The CD was featured as Tower Record's Artist of the Week on KCCN FM 100.3 and also a featured artist on KORL FM 99.5.
Songs from "Touch" that have been played includes: "Hopes and Dreams," "Makapu'u By the Sea," "Out In the Country" and "Shima Uta." "Greensleeves" is still used during the Christmas Seasons and some of the Classical guitar selections have been played on KHPR including "Killing Me Softly" and "Classical Gas."
PROMOTIONAL EVENTS
Live on KHON Fox 2 Morning News with Leslie Wilcox and Ron Mizutani, KITV Morning News with Kathy Muneno, Paul Udell and Tiny Tadani, FM 100.3 Morning Interview with Billy V. and Charlie Espina, Hawaiian KINE interview with Randy Hudnell and KSSK Live at the Hanohano Room with Perry and Price. Wayne also performed a concert sponsored by Hawaii Public Radio with drummer percussionist Stacy Tangonan and acoustic bassist Ernie Proventure.
"In May of 1998, "Touch" received a Hawaii Music Award in the Island Music Category.
Recorded: Rendezvous Recording Studio Producer: Pierre Grill and Wayne Takamine Mastering: SAE Mastering Studio Photography: Dan Tanigawa and Allison Foo Graphic Artist: Allison Foo Manufacturing: Chris Hubbard, SONY Music Productions Executive Producer: Wayne Takamine
Two Ti Leaf CD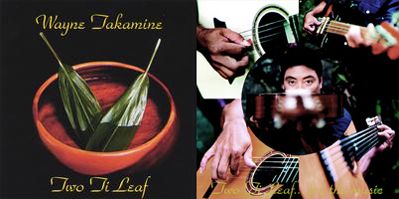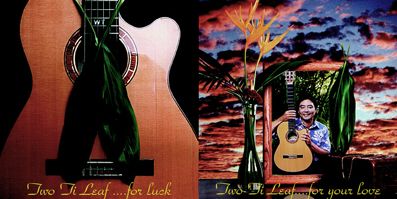 Contemporary Hawaiian, Reggae, Jazz and Slack Key

"Two Ti Leaf" by Wayne Takamine Hawai'i Academy of Recording Arts 2002 Na Hoku Hanohano Finalist
"Two Ti Leaf" is the third CD recording by Wayne Takamine. It is a collection of songs recorded at Wayne's studio Two Ti Leaf Productions. The "Two Ti Leaf" CD and graphic artist Raymond Yuen was recognized by the Hawaii Academy of Recording Arts for being one of the top 5 CD cover designs for all CDs released in 2002. It features three new original songs including "Two Ti Leaf" and "Only One In the World," three new arrangements of previously recorded songs including "Sunset Slack", "Without Words" and "Hawaiian Nights and Summer Dreams" and four cover tunes that includes "The Hawaiian Wedding Song", "Heartlight" and "Beyond the Sea." The "Island Style" arrangements features Wayne's Acoustic Guitar along with Hawaiian Steel Guitar by Bobbie Ingano, Ukulele by Tracy Terada, Latin Percussion and Drums by Stacy Tangonan, Acoustic and Electric Bass by Pete Doktor, Isaac Hokama and Ernie Provencher and Wayne's Keyboard and Rhythm arrangements. "Ti Leaf" has been known to chase away evil demons and bring good fortune. For the "Two Ti Leaf" CD, the power of the "Ti Leaf" has certainly proven it worth and I hope that good fortune will be spread to all who listen to it. AIRPLAY One of the popular songs from the disc is the title cut "Two Ti Leaf". It has been put into rotation on at least 5 stations including KHUI FM 99.5 The Breeze, KPOA, KNUQ, KUAI and KBIG. On high rotation on KHUI FM 99.5: "Hawaiian Nights and Summer Dreams," Hawaiian Wedding Song" and "Sunset Slack" "Sunset Slack" the theme song for "Hawaii Okinawa Today." The show airs on Olelo Public Access channel 52 every Monday at 7:00 P.M. The show also uses background music produced at "Two Ti Leaf Productions." Recorded: Two Ti Leaf Productions Producer: Wayne Takamine Mastering: Charles Brotman, Lava Tracks Recording Studio Photography: David Shimabukuro, One Moment in Time Graphic Artist: Raymond Yuen, Small Kine Photography Manufacturing: Chris Hubbard, SONY Music Productions Label: Two Ti Leaf Productions Released: October 25, 2002 Executive Producer: Wayne Takamine
Hawaian Nights & Summer Dreams CD


Original Contemporary Hawaiian and Jazz
"My Hawaiian nights have always been filled with music, and the thought of someday writing my own songs was a special part of all my summer dreams. This collection is the fulfillment of those lifelong dreams...or at least the beginning of what I hope will be a long journey into special memories and cherished moments. Each song is a reflection of our special life here in Hawaii, translated into the contemporary musical styles that I, and many of you, grew up with. As you listen, I hope you, too, will be taken back to a more gentle time, filled with love and laughter cooled by soft trade winds and blessed by island rain. A time of magical Hawaiian Nights and Summer Dreams."

"Hawaiian Nights and Summer Dreams" is the first of Wayne's three CD recordings. It was recorded at Flyin' Hawaiian Productions with Sound Engineer Lester Gantan. It features 7 original songs, 3 original instrumental and the "Romanza" a popular classical guitar selection.

It features keyboard arrangements by Lester Gantan, Wayne on acoustic guitar and Lead Vocals along with some of the top recording artist in Hawaii. Rachel Gonzales, Tiffany Catalflano and Ben Vegas provides the Vocal Harmonies, Latin Percussion by Rolando Sanchez and Mike Muldoon, Tenor Sax by Tim Tsukiyama, Soprano Sax by Joe Getsi and Bass by Donavan Egloria, Blaise Sison and David Inamine.

"Hawaiian Nights and Summer Dreams" has influences of Jazz and Hip-Hop incorporated in Contemporary Hawaiian Music. It features original songs like "Cruzin," "Hawaiian Nights and Summer Dreams" and surf rock tune, "Tubular Scenes."

Of the instrumental selections, "Sunset Slack" and "Quiet Nights With You" have been featured as "Theme" music for different TV programs in Hawaii and also in Canada and Japan.


AIRPLAY

"Sunset Slack," have been used as theme songs for "Hawaii Okinawa Today" weekly community program. It is also used on "Hawaii Skin Diver" on OC-16.

"Quiet Nights With You," has been used for a Candian TV Cook show theme song and also used as background for a variety of TV shows.

"Hawaiian Nights and Summer Dreams" has received good airplay by different stations in Hawaii including: Hawaiian KINE 105.1, FM 100.3, KORL FM 99.5, CD101.9, KRTR, KHPR, KPOA, KUAI, KWXX, KZOO and KBIG. The CD was featured as Tower Record's Artist of the Week on FM 100.3.

Songs from the Hawaiian Nights and Summer Dreams CD that also have been played includes: "Cruzin," "Hawaiian Nights and Summer Dreams," "Sunset Slack" and "Quiet Nights With You."

"Sunset Slack" and "Quiet Nights With You" have been featured as "Theme" music for different TV programs in Hawaii and also in Canada and Japan.

PROMOTIONAL EVENTS

Live on KHON Fox 2 Morning News with Leslie Wilcox and Ron Mizutani, KITV Morning News with Kathy Muneno, Paul Udell and Tiny Tadani, FM 100.3 Morning Interview with Billy V. and Charlie Espina, Hawaiian KINE interview with Randy Hudnell and KSSK Live at the Hanohano Room with Perry and Price.

Recorded: Flyin' Hawaiian Productions

Sound Engineer: Lester Gantan

Mastering: A & M Mastering Studio

Photography: Clarence Lee

Graphic Artist: Clarence Lee, Clarence Lee Design

Manufacturing: Chris Hubbard, SONY Music Productions

Distribution: Aaron Kaizawa, Pa Leo Hawaii LLC

Label: Starsong Productions

Released: January 25, 1996

Executive Producer: Wayne Takamine